TV DX Project

Click on the photo to see it larger.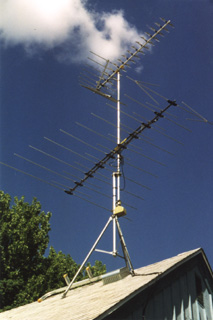 In July 1998, I finally got my wish to experiment with rotatable TV antennas and chase TV DX (long distance tv viewing). I finally got into a position that no landlord could deny my antenna system plans. I put up a rotatable high gain TV antenna array to cover all the broadcast TV channels!
The bigger of the 2 antennas covers the VHF channels (2-13) and the smaller of the 2 covers the UHF channels (14-69). The VHF antenna is a Channel Master 3612 and it's boom (long central spine) is 10 feet long! It doesn't look that long from the ground, but I sure knew it when I was holding it with one hand up on the roof! The UHF antenna is a Channel Master 4248. The antenna rotator is also a Channel Master. It's their heavy duty model of rotator. I don't have any preamps in the system right now. I have been afraid of gettin swamped with overload from the "Telefarm" which is only 20 miles away when I am watching my local channels.
To date (March 15, 2000), the furthest stations I have seen from Minneapolis, MN are:
---

KGAN tv 2 (CBS) Cedar Rapids, IA (251 miles)

---

KIMT tv 3 (CBS) from Mason City, IA (139 miles)


KDLO tv 3 (CBS) Garden City, SD (251 miles)

---

KWQC tv 6 (NBC) Davenport, IA (332 miles)


KAAL tv 6 (ABC) Rochester, MN (86 miles)

---

WQAD tv 8 (ABC) Moline, IL (332 miles)

---

KTTC tv 10 (NBC) Rochester, MN (86 miles)

---

KEYC tv 12 (CBS) Mankato, MN (80 miles)


KIIN tv 12 (PBS) Iowa City, IA (277 miles)

---

KSFY tv 13 (ABC) Sioux Falls, SD (269 miles)

---

KSMQ tv 15 (PBS) Austin, MN (111 miles)

---

WHOI tv 19 (ABC) Peoria, IL (428 miles)

---

KTIN tv 21 (PBS) Fort Dodge, IA (216 miles)

---

KRIN tv 32 (PBS) Waterloo, IA (196 miles)

---

WEEK tv 25 (NBC) Peoria, IL (428 miles)

---

WMBD tv 31 (CBS) Peoria, IL (428 miles)

---

WMSN tv 47 (FOX) Madison, WI (270 miles)

---

Many of the VHF channel slots are used in the Twin Cities TV market so I will only be able to see stations that are in the blank slots or when the locals go off the air. The used VHF slots here are 2, 4, 5, 9, and 11. There are also signals on 7 and 13. 7 is Value Vision a shopping channel and 13 is rebroadcast of MTV2 off a DSS reciever.

Anyone know how to get useless channels like 7 and 13 off the air so those of us who care can TV DX?


LINKS TO OTHER TV DX PAGES:
Jeff Kadet's TV DX Photos (HDTV also!)
Twin Cities HDTV page


You can e-mail me at: