Pet Menagerie


They cost less than kids and they're usually less trouble...
cat photos - by Eric
dog photos - by Nancy

Buddy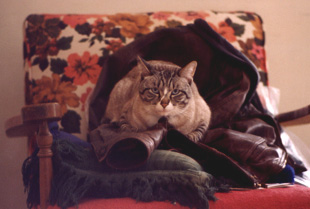 Here is Buddy on my leather jacket. I consider Buddy to be my cat since I am the cat lover in the house. Buddy is part tabby and part Siamese. He often sits high above the dogs - partly to keep away from their bothersome ways, but mostly because he's better than they are! <grin>
Little e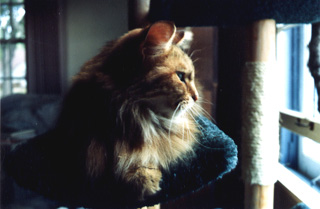 Her pet tag says Fluffkins, but I like to call her "Little e" because she sounds like she is saying "eeeeeeee" when she "talks." She is very fluffy and looks like she would be heavy. Since she is mostly fluff, she weighs very little -- only 7 pounds. For comparison, Buddy weighs 12 pounds. She has rust, black, brown and white fur in a tortoiseshell appearance. She has "hissy fits" when Buddy comes near her. Sometimes she takes a poke at him. She is sweet to us, but seems to hate Buddy. I don't know if they will ever be friends...
Lucky and Maya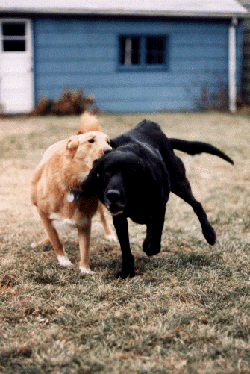 Here, you can see Maya (2 years old), giving poor Lucky (9 years old) the run-around! Lucky is a female black Labrador retriever and Maya is a female German shepard/collie.
Lucky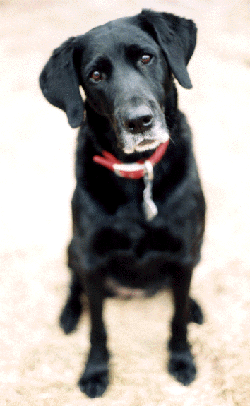 Lucky is showing her age and wisdom by sporting a graying beard.
Maya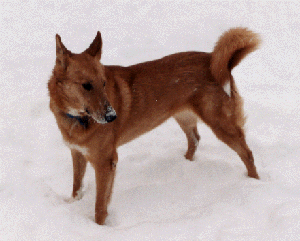 Maya is demonstrating her attention deficit syndrome by not looking at Nancy as she tries to take her picture.
Bed check in cell block K9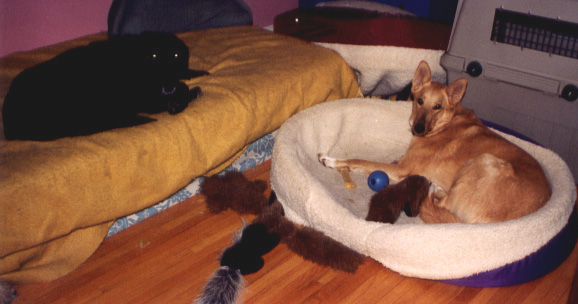 These 2 lucky girls have their own bedroom! They get to go in here when we leave the house or need them out of the way for one project or another. Maya is the queen of furry dog toys. Here you can see her Squeaky Skunk, Squeaky Squirrel, Squeaky Fox, some other squeaky thing, chewy bone and blue ball. The dogs belong to my wife Nancy. She is the dog lover in the house. She loves to give them baths and keep them sweet smelling - if I complain enough!